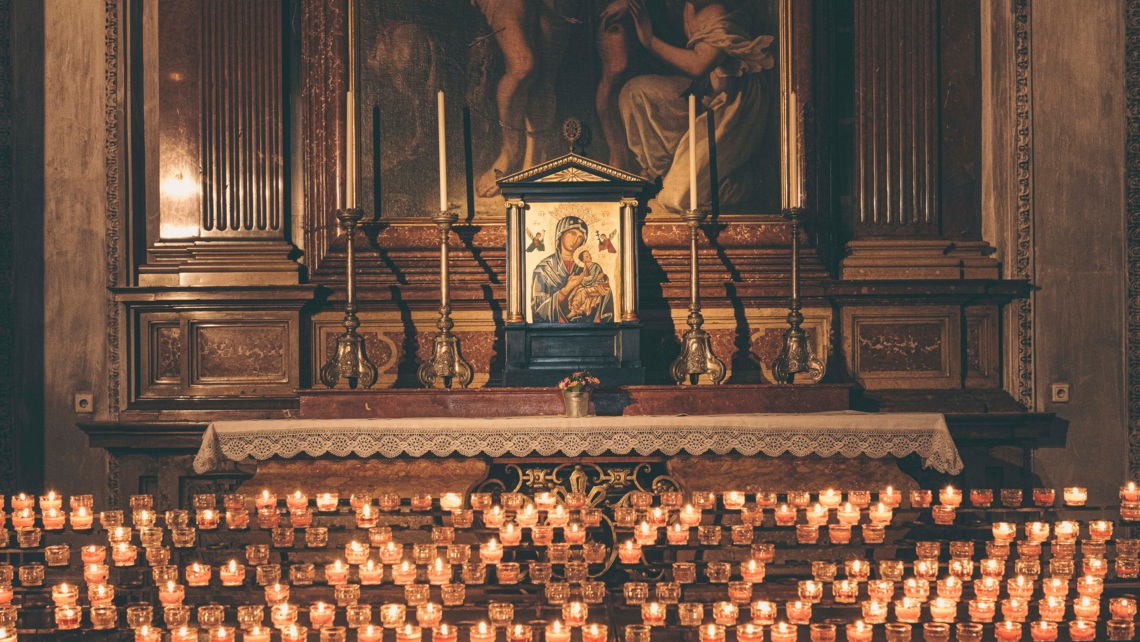 Several years ago I represented my three brothers and sister when, after our dear mother's death on Easter Tuesday, I met with the organist of her parish church in order to plan the funeral Mass. Having been immediately assured that the parish community was eager to assist my family in its "journey of bereavement," I was confident of a respectfully sympathetic ear from the lady organist.
"I'm sorry, but we can't do that," she so sympathetically replied when I told her my family would like some simple chant piece to be included -- anything. To my consternation, she went on to "guide" me to a realization as to why she could not do that. "We decided as a parish community to always look ahead, and never look behind, in our journey of faith. Using chant, of course, would be contrary to our mission."
Thinking of my three crusty brothers, who had not darkened the doors of a Catholic church for two or three decades, and who had asked that we keep the funeral ceremony simple, I requested of the organist that there be no funeral "choir" (which I knew to be, not a trained choir, but just a group of nice people who liked to sing. Frankly, I also wanted to avoid the effeminate, soft-rock genre of church hymns I knew were in common use in most parishes.)
"Sorry, but we cannot eliminate the church choir. This is one of the means with which we assist the bereaved at the funeral Mass," she said.
Made somewhat reckless by my growing sense that this dear lady and her "parish community" had no intention of acceding to my family's wishes, I made another attempt to salvage some sense of meaning, no matter how minimal.
"Well, in that case, since you say we have to have the choir, would you just sing one or two hymns?"
I went on to boldly mention that at the parish "Bereavement Mass" celebrated (by coincidence) the evening before, there were six or seven hymns, and that to me it seemed that the Mass itself had only been a humble adjunct to the concert medley of Catholic hit tunes. "So would you, then, limit the number of hymns to just a couple?"
Once again my hopes were dashed. "I'm so sorry, but with the funeral Mass we must sing six hymns, although the family may choose any hymns it wishes, but within that six-hymn parameter." I politely related to her that, as a former Director of Music in various parishes, I was familiar with the funeral Mass, and that, decidedly, it did not call for a minimum of six "hymns." With this, I thought only of extracting myself from the situation -- after all, my mother had just died and with all this I was becoming weary. So I asked the organist to just do whatever she wanted, thank you -- everything is just fine -- and hastily left.
Would that I had succeeded in exiting myself and daughter Sophia from that "Pizza-Hut" church but I was stopped by a priest at the door, who wanted to "go over" that evening's wake service with me. With the memory of my mother's final hours flooding my mind, I told the congenial priest of the blessing afforded my mother through the recitation of the Divine Mercy Chaplet. "You see, Father, my mother had become devoted to that prayer, and it was the very last prayer said over her just an hour and a half before she was mercifully granted a speedy deliverance. So would you consider leading the people in that prayer at the wake, since it held such great significance to my mother?"
Seeing that Father was becoming uncomfortable with my earnest recital, and sensing that he was unaware of this devotion, I quickly shifted to, "Well, that's okay, Father. Saying the rosary instead would be just fine."
"Sorry, we can't do that," was Father's firm response. "We use a scriptural wake service here." I told Father of my mother's lifelong devotion to Mary and the rosary, and that it would hold great significance to my family, then, if the rosary were included along with the scriptural service.
"No, sorry, we can't do that," said Father once again. "We believe that the people attending would benefit most from the scriptural service." Relenting somewhat, he added that, "Well, we can say a decade of the rosary, if you like."
Not seeing the point of it all, under the circumstances, I demurred, thanked Father, and left.
Extricating myself from the second such "assistance in my family's journey of bereavement," the stone-cold realization settled over me: They have stolen our Church.
It is in the parishes of every diocese that the crucial and intimate struggles for the identity and integrity of our beloved Roman Catholic faith are being waged. Our Catholic people are beleaguered, their Faith besieged, their simple faith mocked.
Mary Oberle Hubley
April 1998
Homiletic and Pastoral Review,
December, 1988
Requiescat in pace.

Margaret Schelle Oberle
January 1, 1916 - February 16, 1998